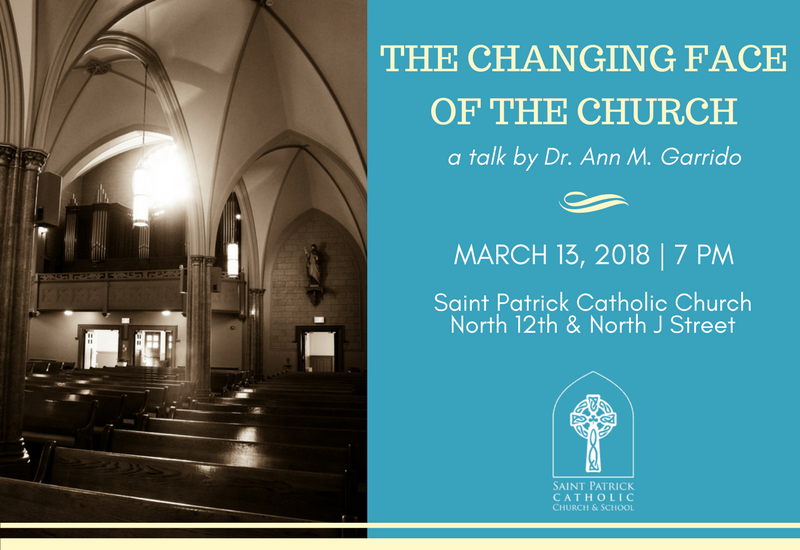 Join us for a special talk presented by Dr. Ann M. Garrido on the Changing Face of the Church on March 13, 2018 at 7 PM in the sanctuary of Saint Patrick Catholic Church.
We often hear people talk about how the Church is changing.  But what does that mean?  Join us for a  special opportunity to have some of those questions answered.  Dr. Garrido, a Catholic writer and educator will join us to talk about "The Changing Face of the Church."  She will explore current megatrends in U.S. parish life including generational and ethnic shifts, changes in religious practice, and the emerging new generation of Catholic ministers.  
This adult education opportunity is sponsored by Saint Patrick Catholic Church & School in collaboration with the Faith Formation Commission of Saint Patrick Catholic Church and the St. Patrick Parent Association of Saint Patrick Catholic School.
Bio
Conflict Resolution
Last year, Dr. Garrido presented a talk on the spirituality of children. Dr. Garrido, DMin is associate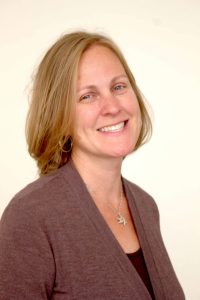 professor of homiletics at Aquinas Institute of Theology in St. Louis, MO and a consultant with Triad Consulting Group, a conflict mediation and communications team based in Cambridge, MA.  She is the author of eight books and numerous articles in the field of Church leadership and ministry.
Catechesis of the Good Shepherd
In addition, she is the founding director of the school's masters degree program in Catechesis of the Good Shepherd.  She has served as a catechist with children ages 3-12 since 1996, and has been a formation leader with the U.S. National Association of Catechesis of the Good Shepherd since 1999, a member of the association's formation committee since 2004. Included in the books she has authored are Mustard Seed Preaching (LTP, 2003) and A Year with Sofia Cavalletti (LTP, 2017).
All Are Welcome
Join us for this special evening.  All are welcome.  Bring a friend or a few.  Need not be Catholic to learn about trends in Catholic parish life. No RSVP necessary.  Refreshments will be served after the presentation in the Gathering Space of Saint Patrick Catholic Church, North 12th & North J Street in Tacoma, WA.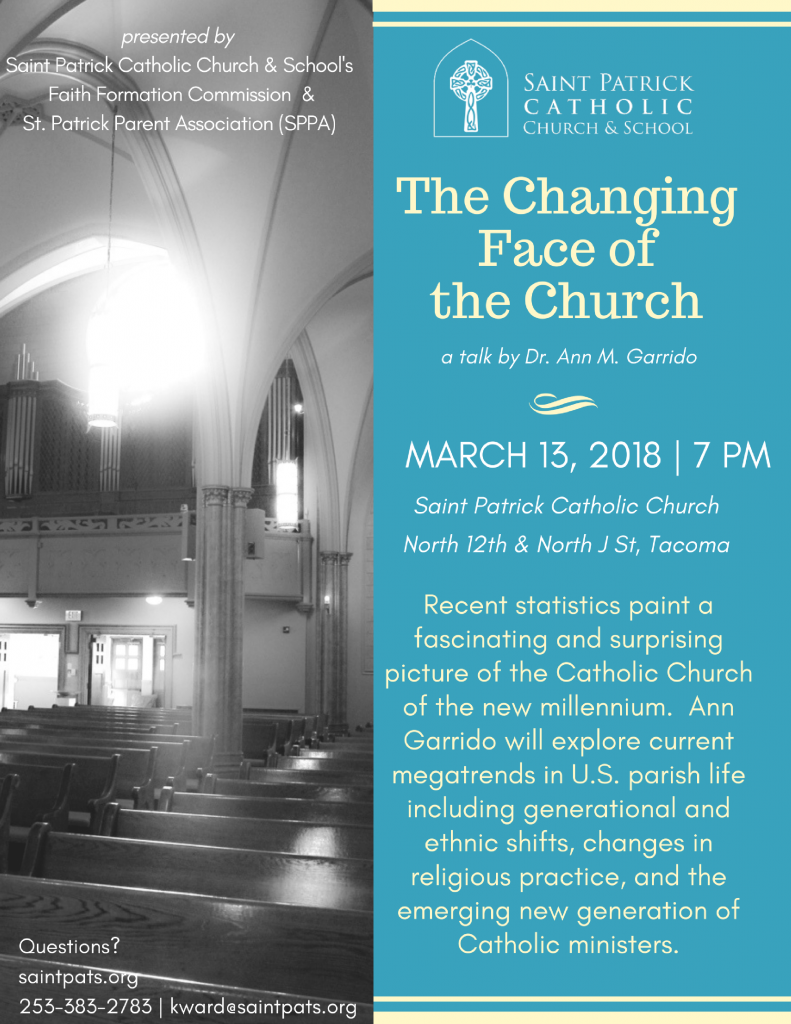 Kim Ward, Pastoral Associate for Faith Formation
253-274-4108