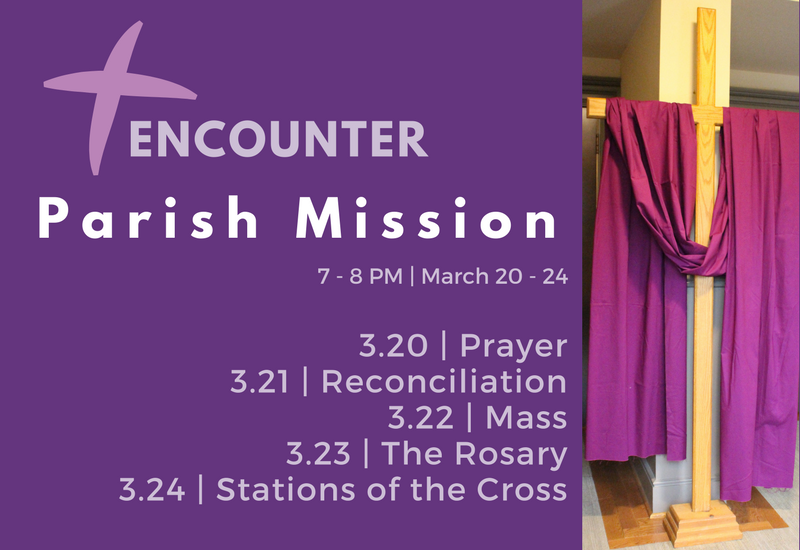 Saint Patrick Catholic Church is embarking on a parish mission. Join us for this opportunity to slow down and take the time to Encounter Jesus in a very special way this Lenten season.
What is a Parish Mission?
A parish mission is a special pastoral effort that extends over a number of days. It is an opportunity to experience spiritual rituals and sacraments in a heightened and intense way, while focusing on the major themes of the Catholic faith. The parish mission touches the heart and reminds us of God's infinite love.
Why Participate in a Parish Mission?
Encounter our parish mission— encounter Lent. By spending time in reflection, prayer, ritual and sacrament during this Lenten season in community with others we might encounter Jesus.
Pope Francis says the following about living a life of encounter:
"We are accustomed to a culture of indifference and we must strive and ask for the grace to create a culture of encounter, of a fruitful encounter, of an encounter that restores to each person his or her own dignity as a child of God, the dignity of a living person.

We are accustomed to this indifference when we see the disasters of this world or small things: 'What a shame, poor people, look how they are suffering,' and then we carry on.

An encounter. And if I don't look, it's not enough to see, no, (we must) look – if I don't stop, if I don't look, if I don't touch, if I don't speak, I cannot have an encounter and I cannot help to build a culture of encounter."Pope Francis on September 13, 2016 from the Mass celebrated at the Santa Marta residence
Read more about how Pope Francis' invites us to an encounter. To live the life of encounter. An encounter with Christ. An encounter with our family. An encounter with our our neighbor. An encounter with Lent. An encounter with Easter.
When is the Parish Mission?
The parish mission is a weeklong event, March 20 – 24, 2017. The parish mission will begin each evening at 7 PM at Saint Patrick Catholic Church with song and prayer. It will end at 8 PM. Come for the week or a night or two.
Who is Presenting the Parish Mission?
The evening includes scripture and talks presented by laypeople and clergy. Saint Patrick Catholic Church is collaborating with priests from St. Rita of Cascia and the Jesuit Community at Bellarmine Preparatory School. The parish mission is one of the ways that parishes in the Pierce Deanery are working together to bring spiritually moving programs to our faith communities.
Who Should Participate in the Parish Mission?
All are welcome. Catholics and those who are curious about the Catholic faith. Bring a friend or a few. Download the Parish Mission Reflection Booklet. Bring it with you each night to write down your thoughts throughout the evening.