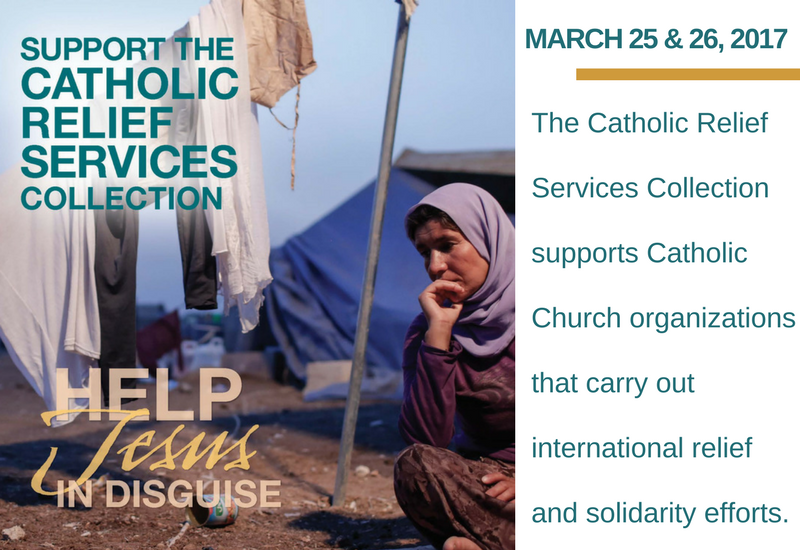 By participating in the Catholic Relief Services Collection (CRSC), you are responding to Jesus in disguise in some of the most marginalized communities in our world. Saint Patrick Catholic Church is taking up the Catholic Relief Services Collection the weekend of March 25-26, 2017.
Providing for Those in the Margins
The CRSC provides services for immigrants, humanitarian aid in the wake of natural disasters, refuge for the displaced, and advocacy for peace and justice around the world. Let's join together in this collection to support those suffering and on the margins of society.
Supporting Worldwide Agencies
Six worldwide organizations are supported by the collection. Agencies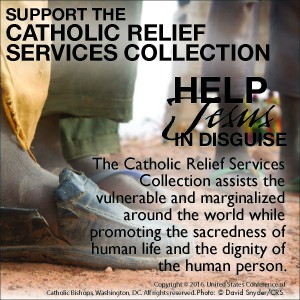 benefiting from the Collection:
Feed Jesus' hunger in suffering refugees through the USCCB Department of Migration and Refugee Services (MRS).
Give water to quench Jesus' thirst in the people of Syria and Niger through the humanitarian work of Catholic Relief Services (CRS).
Offer legal assistance to Jesus in struggling immigrants through the Catholic Legal Immigration Network, Inc. (CLINIC).
Reach out to comfort Jesus' loneliness in isolated workers through the pastoral work of the USCCB Secretariat for Cultural Diversity in the Church.
Advocate on behalf of Jesus in the poor and abandoned through the public policy work of the USCCB Department of Justice, Peace, and Human Development.
Send aid to Jesus in the victims of natural disasters through the Holy Father's Relief Fund.
Amen, I say to you, whatever you did for one of these least brothers of mine, you did for meMt 25:40
Be Jesus in Disguise
We are reminded that Jesus identified himself with our poorest brothers and sisters.
The CRSC serves Jesus in the victims of human trafficking, those who suffer from unjust laws, and those who need pastoral care and humanitarian assistance across the globe.
The collection offers an opportunity for each of us to help and be Jesus in disguise.
How is the CRS Collection different from CRS Rice Bowl?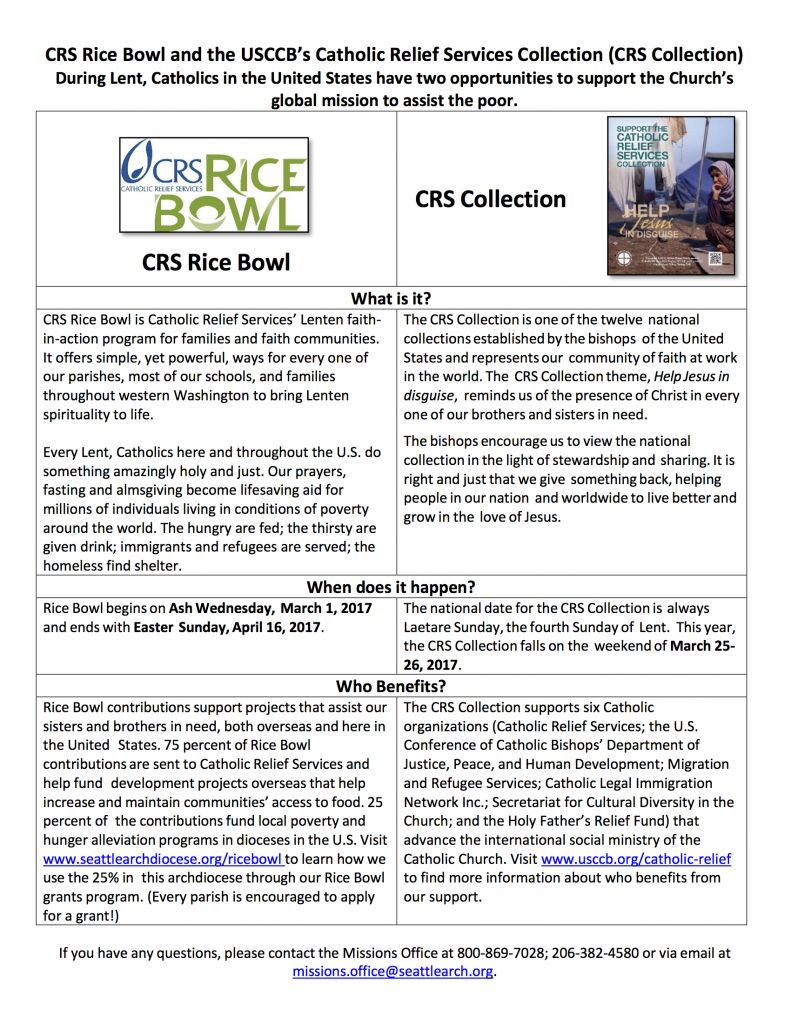 Your Gift is Vital
To help your discern your gift to CRS consider praying this prayer.  Through your generosity, families will be reunited, valuable life skills will be taught to those seeking a better life, and many will have vital humanitarian needs met.