The Disability Inclusion Ministry is widening the welcome and advocating for people with disabilities.
Rising to the Challenge
The United States Conference of Catholic Bishops encourages all parishes to include people with disabilities in all aspects of parish life. At Saint Patrick Catholic Church we are dedicated to rising to the challenge.
Our Goals
Offer peer support and prayer
Educate parishioners about disabilities
Ensure parish activities accessible
Foster disability advocacy
The Need
People with disabilities make up about 20 percent of the population. Yet, 90 percent of individuals with long-term limitations don't go to church. Those that do, often feel invisible. Individuals with disabilities don't want pity. They need to be respected just as they are.
How We Can Help
If you, a loved one or friend has a disability, our Disability Inclusion Ministry can help you:
Meet new people in the parish
Live with your disability
Accommodate your special needs
Interface with our Pastoral Care team
Pray
The Serenity Prayer
God grant me the serenity to accept the things I cannot change; courage to change the things I can, and wisdom to know the difference.
Living one day at a time; enjoying one moment at a time; accepting hardships as the pathway to peace; taking, as Jesus did, this sinful world as it is, not as I would have it; trusting that God will make all things right if I surrender to God's will; that I may be reasonably happy in this life and supremely happy with God forever in the next.
Rev. Reinhold Niebuhr (1892–1971)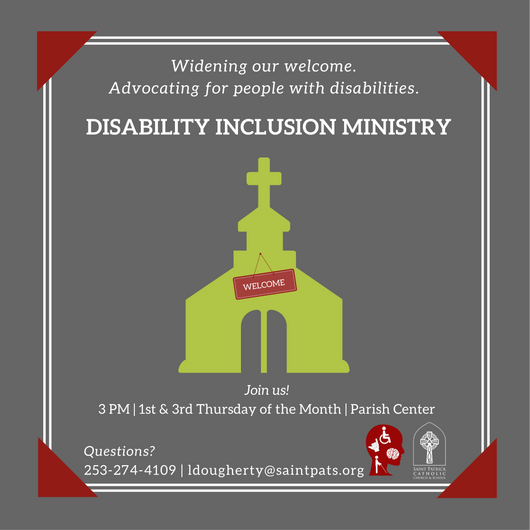 I want to help widen the welcome!
Laura Dougherty
253-274-4109