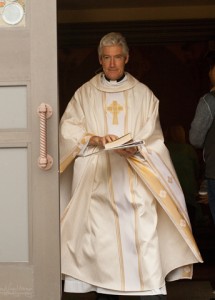 It is with a heavy heart that I write what is my last Easter message to the people of St. Patrick community. It has been 20 years since I was warmly welcomed into this beautiful community. It has been a great privilege to serve you as Pastor for such a long time. Although looking back it seems like such a short time. C'est la vie!
None of us is here forever. We are just passing through. All of us hope that as we pass through that we do some good along the way. That is my hope; that I have done some good during my time here with all of you my family, my brothers and sisters in Christ.
What a joy it has been to share my life with all of you; to celebrate the sacraments with you over the years. There have been lots of celebrations; Sunday Masses, Baptisms, Marriages and other life-giving occasions; as well as many sad goodbyes, bidding a fond farewell to those who left us to go home to be with God.
As I take my leave of you at the end of June, I want to thank you sincerely for all your kindness to me and all your support and encouragement. I've always felt loved and appreciated by this community. I leave with no regrets, but a heart filled with gratitude and good memories of happy times.
If I have offended anyone in any way I am sorry; please forgive me and pray for me. I promise to pray for all of you every day until I die.
I don't know what the future holds but I do know that the Good and Gracious God who brought me here, who in my case saved the best for last, will continue to lead me and guide me. I do sincerely hope with His grace to allow myself to be led by Him always. I believe that same Good and Gracious God will watch over and take care of this beautiful community through those who follow me. Change is difficult and challenging. Patience and trust will enable us all to move forward with hope and confidence.
Affectionately,
In Christ,
Father Seamus Laverty