Playing sports has become very important today, since it can encourage young people to develop important values such as loyalty, perseverance, friendship, sharing and solidarity. Sports, in fact, can make an effective contribution to peaceful understanding between peoples and to establishing the new civilization of love.Saint Pope John Paul II
Gospel Values Incorporated into the Sport
CYO Athletics is sports done a different way— as one community. Individuals and teams strive for greatness in accordance with Gospel values. To develop the whole person, we teach success is not measured solely by the scoreboard, but by the effort, team play, and fun of the experience.
Join the Team
Saint Patrick Catholic Church & School offers three of the CYO Athletics programs for grade school youth— Cross Country (K-8), Basketball (4-8), Volleyball (4-8).
Other Opportunities
If teams are formed in other CYO sports— Softball, Baseball or Soccer, travel to Seattle would be required to compete. Pierce County CYO does not currently offer these sports, but they are offered in Snohomish-King County. Track is offered at All Saints Catholic School and St. Vincent De Paul School. We can participate in their programs and/or develop our own teams.  Please contact our athletic director for more information.
The Play by Play & More
Get the play by play, practice schedules, game times, registration announcements and more by clicking on the sport specific folders below.
Cross Country – Final Meet 10/14
CYO Cross Country
Our runners did an outstanding job at the October 7th meet! They competed well and made great strides in their second meet of the season. Our final meet will be this Sunday, October 14th. The meet begins at 2:00 P.M. Please arrive a half an hour before your scheduled race begins. Good luck runners!
Approximate Schedule:
2:00 pm PreK-Kindergarten boys
2:07 pm PreK-Kindergarten girls
2:15 pm 1st-2nd grade boys
2:24 pm 1st-2nd grade girls
2:51 pm 3rd grade boys
3:00 pm 3rd grade girls
3:09 pm 4th and 5th grade boys
3:19 pm 4th and 5th grade girls
3:30 pm 6th-8th grade boys
3:45 pm 6th-8th grade girls
Our last practices are Tuesday and Thursday from 3:45-4:45 P.M. at Vassault Park unless otherwise stated. Please check Team Sideline for updates.
The end of the season potluck is Sunday, October 21st. Please check Team Sideline for the details.
If you have any other questions, please contact our athletic director at cyoathletics@saintpats.org.
When 
The season runs now through mid-October.
Who
Kindergarten – Grade 8
Coach Miller is back as our head coach. She will continue to communicate with families throughout the season using the app Team Sideline.
Registration
All athletes must be registered to participate. If you are feeling called to help as an assistant coach, register yourself too. Cross country track requires the support of many volunteers.  We appreciate your dedication to your children and the sport.
Fees
$25 for the season
$20 for a running singlet (shirt), if needed
Practice
Practice is held at  Vassault Park, 3:45 P.M.-4:45 P.M. every Tuesday and Thursday unless otherwise stated.  Please check Team Sideline for updates.
Meets
Three CYO meets are scheduled for Sunday, October 7th and 14th.  Team Sideline is updated with the meet times and sites locations.
Check out the video interview with Dr. Gary FitzGerald and learn why students choose to participate in CYO Cross Country.
Basketball – Now Registering
CYO Basketball
Registration
Registration is now open for boys and girsl in grades 4 – 8. To register your sons(s) and/or daughter(s) please visit our registration website at https://teamsideline.com/sites/stpatrickseattle/home.
We are seeking 4th grade girls and boys, 6th grade girls and 7th grade girls. Currently we have one 4th grade girl, no 4th grade boys, no 6th grade girls and one 7th grade girl. Help us build viable teams.  Register today.
Coaches
We are in need of a 4th grade girls' coach.  If you are interested, please contact our athletic director at cyoathletics@saintpats.org.
Uniform
As you register, you will be prompted to purchase a basketball uniform (shorts and jersey).  If your child has already played and has a uniform, you do not need to order a new one. Your child may play in the old uniform.  If your child has outgrown that uniform, they may exchange it for a larger sized used uniform.
Practice
Practice begins mid-October and runs through late January. Games start in November and run through late January. If a team makes the playoffs in Seattle, they may play until mid-February.
Questions?
If you have any questions about our basketball program, registering, our uniform policy or anything else, please contact the athletic director at cyoathletics@saintpats.org.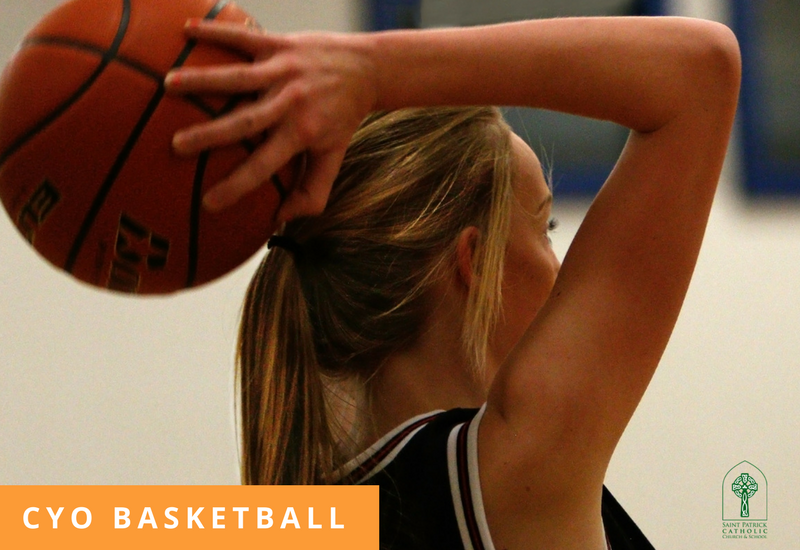 Volleyball – Coming Soon!
CYO Volleyball
When
The season runs February through April. Registration opens in January. Practice starts in February and games begin in March.
Who
Co-ed boys and girls in grades 4 – 8
Matt Smith, CYO Athletics Director
253-272-2297 or 253-383-2783