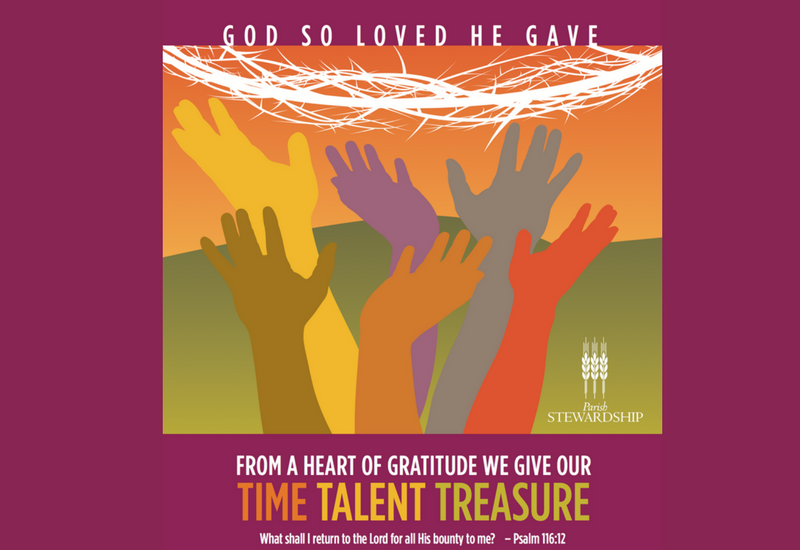 Thank you for making your commitment to our 2019 Stewardship Renewal. There's no limit to what we can do as a parish when we commit to praying, sharing our strengths and giving generously.
Saint Patrick Catholic Church
Kim Althoff
James R. Andersen & Mary Lobdell
Jerry Anderson
Karen Anderson
Alika & Jenilee Antone
German D. Anulacion
Joanne Armour
William & Marilyn Bailey, Jr.
Marian Barker
Robert & Helen Batie
David & Iris Beardemphl
Charmee Beauclaire
Richard & Karla Benedetti
Joel M. & Lisa Beritich
Robert & Kathleen Bethke
Joshua & Meaghan Bihun
Todd & Katherine Bloom
David & Cappri Boitano
Raymond & Barbara Bolanos
Blake & Sharrie Bolton
Arvids Breikss
Debora Brese
Steven & Shawn Brown
Robert & Karen Bruback
Constance L. Bryant
Harold Bucholz
Kathleen Bucholz & Andy Moore
Don & Beth Bucsko
Deborah Cade
Jon Calder
Susan Campbell
Seth & Jennifer Carlson
Eddie & Michelle Carpenter
Shirley Carstens
Jean Casadoro
Robert & Joan Casey
James & Elizabeth Catalinich
Jack & Anne Chambers
Sue Chouinard
Joan Christnacht
David & Mary Ann Clabaugh
Pierson & Sara Clair
Angela Clark
Sheree Clark
Mollie Cleary
Marianne Collins
John & Angela Connelly, Jr.
Christopher Constantine & Molly Hagan
Craig & Katrina Coovert
Georgeann Cukjati
Jamie & Wynter Dait
Patty Davidson
Noreen Deruette
Joann Devlin
Joseph Devlin & Monica Kiehl
Michael & Judy Dillinger
Robert & Lisa Dini
Diane Doherty
Joan Doherty
Brian Donovan
Donald & Laura Dougherty
Dave & Ginny Douglas
Helen Downey
Mark & Denise Dynan
Douglas & Martha Eberhardt
Don & Ann Marie Eberhart
William & Barbara Eckert
Andy & Katie Ecklund
Tom & Courtney Erker
Gail Ferry
Jacquelyn Fiacchi
Garry & Cathleen Fitzgerald
Jack & Mary Foust
Michael & Maureen Freeman
Cathryn Galt
Randy & Sherree Gause
Philip & Lisa Girolami
Andrea Goodale
David & Kelly Goodsell
Mark & Cheryl Gosselin
Barbara Gross
Barbara Gruber
Gerry Gunovich
Wade & Teri Hager
Richard & Patricia Hahn
Steven & Cristina Hakansson
Eric & Jean Hansen
James & Jill Hanson
Marlene Harnish
Scott & Theresa Harris
John & Jennie Hautala
James & Kathryn Hedrick
Andrew & Jacqueline Henrikson
Barb Hiatt
Janice Higgins
James & Chong Hilger
Elaine Hilton
Robert & Cheryl Hoffman
Thomas Holt
Laurie Horn
Ted & Carole Jacobs
Nancy Jaenicke
Matthew & Jocelyn Jamora
Mark & Sheila Jensen
Philip & Anne Marie Jesse
Barry A. & Tessa Johnson
Liu & Christy Johnson
Robert & Bonnie Jordan
Stephen & Karen Joyce
Joseph & Christine Jurun
Robert & Ann Kahr
Toni Kanzler
Paul & Emily Keller
Regina Keller
Christopher & Allison Kinyon
Chris Kradjan & Chris Schaller-Kradjan
George & Cielito Lane
Robert C. & Molly Lane
Thomas & Marilyn Larkin
Tom & Mary Larsen
Cynthia Leeder
James Leggett & Elizabeth Verhey
Kirk & Mary Leverson
Nannette Liberatore
Chris Linder
Adam & Vanessa Lindgren
Kevin & Lisa Lovejoy
Sharon Lynch
Gavin MacHutchin
Robert Mack
Kimberly Mackey
Pierre & Joanna Malebranche
Ann Marinkovich
Brian & Amy Marlow
Hugh & Nancy Mau
John & Jane McDonough
Thomas & Elizabeth McDonough
John & Elizabeth McDougall
Frances McKamey
Robert & Ellen McKamey
Rosalie McKinney
Lawrence & Mildred McNerthney
Penny Melton
Gary & Anne Mesick
Benjamin & Megan Michels
Mindi Morin
Fred & Lynda Morley
William & Mary Morris
Edward & Kay Mullen
Mary Munoz
Eileen Munshower
James & Pat Murlless
Jeanne Naccarato
Lon & Nancy Nelson
Quoc & Mia Nguyen
Tom & Kathryn Noonan
Eric & Toni Norling
Eduardo Nunez
Mary Lou O'Brien
Gerard O'Leary
Eamon & Elizabeth O'Reilly
Joseph & Susan Olivadoti
Mary Lee Owen
Loren Parkhill
Anthony Pepin & Marie Hollinshead
John & Mary Peterson
Peter & Mary Petrich
Shane & Valerie Pettit
Ted & Lisa Philichi
Aguon-Matanane & Francine Poe
Michael & Cheri Prichard
W. Michael Priebe
Daniel & Jana Quiocho
Beth Rahman
Richard & Linda Ranch
Stephen & Joan Rapkoch
John & Shirley Read
David & Leanne Redding
John & Dolly Reed
Patricia Rink
Richard & Sandi Ryder
Sean & Robyn Salie
Thomas & Alex Sallenger
Alejandro & Laura Sanchez
William & Diane Savage
Chris & Mary Schneider
Mark & Lisa Schomogyi
John Schrader
Richard & Lee Ann Seguban
Jesse & Ashley Selland
Kevin Semler
Joseph & Nancy Sharkey
Douglas & Carrie Shirer
Robert Silva
Barbara Simpson
Daniel Skeldon
Joe & Anna Skillman
David & Lisa Smith
James & Judy Smith
Gerald & Marilyn Snarski
Earl & Wendy Sodeman
Gerald & Elizabeth Solberg
Christopher & Anita Staeheli
Dominic & Tara Staeheli
Therese Staeheli
Larry & Mavis Stears
Bruce & Pamela Stephen-Jordan
Brenda Stevenson Marshall
Jackie Swift
Matthew & Christina Thomas
Catherine Thompson
Bruce & Linda Titus
Carolyn Titus
Leon & Marcianne Titus, III
Brian & Greer Todhunter
Rudy & Connie Tollefson
Lynn Tolzin
Ralph & Barbara Tomberg
Enoch & Amy Tung
Michael & Cynthia Turco
Greg & Amy Unruh
Omma Vaidya
Joseph & Beverly Vari, III
Manuel & Ann Velez
Stephen & Jane VerValin
Phillip & Dawn Vitale
Andrew Vorono & Mary Condeluci
Neil & Heidi Ann Wachter
Leah Walker
John & Denise Ward
Todd & Kim Ward
Marganne Weathers
Kathy Weber
Thomas & Nancy West, Jr.
William & Connie White
Daniel & Beverly Wombacher
Patrick & Judy Wood
Charles Woods & Catherine Leone-Woods
Dennis & Jenifer Woxen
Irena Wright
Robert & Patricia Young
Mary Zadow
Jake & Kathy Zimmerman
Saint Rita of Cascia Catholic Church
Helen Ames
Margaret Angelos
George Baird
Betty Benson
Daniel & Katherine Brands
John & Margaret Cunningham
Joseph Dodaro
Don & Anne Marie Eberhart
Adam & Anne Farrens
Julie Garitone
Teresa Gibbs
Ron & Marla Grassi
Bruce & Joann Harris
Martin & Sharon Hauptman
Heip Hoang & So Ngo
Gene & Judy Hussey
James & MJ Lockemy
Nat & Sally Luppino
Richard Marterella
Patricia Maruca
Palmira Mazzuca
Shirley Mazzuca
Michael & Susan McCreary
Richard & Kathleen Mercier
John & Guelda Messina
Hai Nguyen
Santina Nordi
Roy & Debbie Orlando
Mark & Terri Kay Petersen
Michael A. & Wendi Pfannenstiel
Margaret Pinchak
Paul Rollosson
Kathleen Schlumpf
Mike & Anna Shows
Caroline Riley Smith
Pamela Smith
Gordon Spry
David Viafore
Tuyet Vu
To be grateful is to recognize the Love of God in everything he has given us – and He has given us everything. Every breath we draw is a gift of His love, every moment of existence is a grace, for it brings with it immense graces from Him. Gratitude therefore takes nothing for granted, is never unresponsive, is constantly awakening to new wonder and to praise of the goodness of God. For the grateful person knows that God is good, not by hearsay but by experience. And that is what makes all the difference.Thomas Merton
If you have not made your stewardship pledge— pray about it and make your commitment to deepen your prayer life, share your talents and strengths by volunteering in parish ministry and give generously!
Click on the button above to make your 2019 Stewardship of Treasure pledge! Don't forget to use the Tri-Fold to make your Total Stewardship Commitment— including Time and Talent.