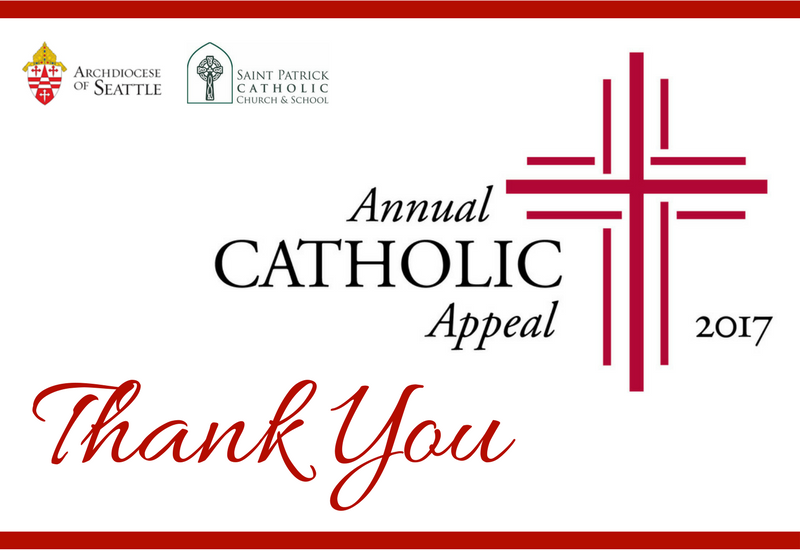 Saint Patrick Catholic Church gratefully thanks the following parishioners for their commitment to being good stewards by pledging to the 2017 Annual Catholic Appeal.
Adams, Sam & Jeanne
Aldrete-Levy, Maria
Althoff, Kim
Alvitre, John & Foglia, Lisa
Amann, Frank, Rosalie
Amundson, Krystle
Andersen, James & Lobdell, Mary
Anderson, Karen
Anning, Richard & P. Carol
Anulacion, German
Arend, Stephanie
Armour, Joanne
Atkinson, Dixielee
Bailey, William & Marilyn
Ball, Jeffrey
Barker, Marian
Batie, Robert & Helen
Beardemphl, David & Iris
Beauclaire, Charmee
Benedetti, Richard & Karla
Beritich, Joel & Lisa
Bethke, Robert & Kathleen
Bihun, Joshua & Meaghan
Birdwell, Patricia
Bolton, Blake & Sharrie
Bosse, John & Vivian
Boyd, Michael & Sarah
Brennan, Jennifer
Britton, David & Michele
Brown, Charles & Margaret
Bruback, Robert & Karen
Bruce, Joan
Bryant, Constance
Bucsko, Don & Beth
Burton, Jeannette
Calder, Jon
Campbell, Susan
Carpenter, Eddie & Michelle
Carstens, Shirley
Ceccarelli, Theresa & Robert
Chambers, Jack & Anne
Chouinard, Sue
Christnacht, Joan
Clabaugh, David
Clair, Pierson & Sara
Clark, Angela
Clark, David & Kerri
Clark, Sheree
Cochran, Loren & Shea
Collins, Marianne
Connelly, John & Angela
Constantine, Christopher & Hagan, Molly
Cooke, Isabel
Coovert, Craig & Katrina
Cotie, Mike & June
Crisalli, Emanuel & Elsie
Cruz, Teodorico & Marilyn
Cukjati, Georgeann
Curti, James & Mary
Dait, Jamie & Wynter
Daniel, Jack & Margaret
Davidson, Patty
Defalco, Santina
Delyanis, Virginia
Deruette, Noreen
Devlin, Joseph & Monica Kiehl
Dini, Robert & Lisa
Doherty, Diane
Doherty, Joan
Doherty, Michael & Cathee
Donovan, Brian
Downey, Helen
Dynan, Mark
Early, Dennis & Cathy
Eberhardt, Douglas & Martha
Eberhart, Don & Ann Marie
Eckert, William & Barbara
Enquist, Stephen & Anne
Erickson, Margaret
Erker, Thomas & Courtney
Fallon, Michael & Julia
Fiacchi, Jacquelyn
Fincham, Berlie & Beverly
Fitzgerald, Garry & Cathleen
Franco, Joseph & Mary
Freeman, Michael & Maureen
Galt, Cathryn
Garcia, Cesar & Linda
Gardner, Suzanne
Garrison, Michael & Katherine
Gause, Randy & Sherree
Gavin, Chris & Doreen
Girolami, Joanne
Girolami, Philip & Lisa
Gladstone, Larry & Nancy
Glump, Dolores
Goodale, Andrea
Goodman, Michael & Kristin
Gosselin, Beverly
Grainer, Donald
Gruber, Barbara
Gunovich, Gerry
Hager, Wade & Teri
Hahn, Richard & Patricia
Hall, Brent & Shannon
Hallett, Lisa
Hanford, Denton & Judy
Hansen, Anne
Hanson, James & Jill
Harman, Jaime
Harnish, Marlene
Harris, Scott & Theresa
Hautala, John & Jennie
Heckler, Alan & Gabrielle Campagna
Heiser, H. Eugene & Linda
Henrikson, Andrew & Jacqueline
Hepfer, Barbara
Hiatt, Barbara
Hoffman, Robert & Cheryl
Holbrook, French & Susan
Hollingsworth, Dale & Robyn
Horn, Laurie
Hunter, Andrew & Sheelagh
Jaenicke, Nancy
Jamora, Matthew & Jocelyn
Jenkins, Carolyn
Jensen, Mark & Shelia
Jesse, Philip & Anne Marie
Johnson, Barry & Tessa
Jones, Doug & Salina
Judy, Richard & Stephanie
Jurun, Joseph & Christine
Kahr, Robert & Ann
Kaleiwahea, Leilane & Heather
Kanzler, Toni
Karabaich, Anton & Lorraine
Keller, Paul & Emily
Kelly, Michael & Bonnie
Kennedy, Lawrence & L.M.
Kilga, Teresa
Kimmitt, Catherine
Kinyon, Christopher & Allison
Koontz, Cliff & Kimanne
Kopchynski, David & Amanda
Kradjan, Chris & Chris
Kranick, Brian & Sarah
Kuharic, Sandra
Lane, George & Cielito
Lane, Robert & Margaret
Large, Jeff & Hannah
Larkin, Tom & Marilyn
Larsen, Thomas & Mary
Leeder, Cindy
Leggett, James & Elizabeth
Lesh, Phillip & Elita
Levens, Robert
Levesque, Peter & Roxann
Liberatore, Nannette
Lindgren, Adam & Vanessa
Lindgren, Mike
Lovejoy, J Kevin & Lisa
Lundeen, Mary
Macdonagh, Marilyn
Machutchin, Gavin & Carole
Mack, Robert
Mackey, Kimberly
Maher, Tim & Heather
Mancuso, Joseph
Maniatis, Geraldine
Manley, Terry & Helen
Marinkovich, Ann
Marlow, Brian & Amy
Marsh, Melinda
McCarthy, Mary Alice
McDaid, Patrick & Shirley
McDonough, John & Jane
McDougal, Mike & Mary
McDougall, John & Elizabeth
McKamey, Frances
McNerthney, Lawrence & Millie
Melton, Penny
Melvin, Jacob & Marissa
Mesick, Gary & Anne
Miller, Megan & Brady
Miller, Randolph & Nancy
Miller, Stephanie
Moisio, Connie
Morgan, Stuart & Danica
Morley, Fred & Lynda
Morris, William & Mary
Mowers, Scott & Davette
Mowrey, Michael & Heather
Mullen, Edward & Kay
Naccarato, Jeanne
Nelson, John & Constance
Nelson, Lon & Nancy
Nguyen, Quoc & Mia
Noonan, Thomas & Kathleen
Noronha, Gregory & Colleen
Norris, Theresa
Norton, Andrew & Blanca
Nunez, Eduardo
O'Flaherty, Claire
O'Leary, Gerard
O'Reilly, Eamon & Elizabeth
Ottow, Patricia
Owen, Marilee
Panlilio, Joel & Dinglasan-Panlilio, Joyce
Patterson, Elizabeth
Pepin, Anthony & Hollinshead, Marie
Pereira, Manuel & Debbie
Peterson, John & Mary
Petrich, David & Jenise
Petrich, James & Maryann
Petrich, Mary
Petrinovich, Shirley
Philichi, Ted & Lisa
Pickett, Michael & Stephenie
Plann, Sandra
Porter, Robert
Prichard, Michael & Cheri
Ramsdell-Shorey, Marjorie
Ranch, Richard & Linda
Randall, Steven
Rapkoch, Stephen & Joan
Read, John & Shirley
Redding, David & Leanne
Reed, John & Dolly
Richards, Kelly & Robert
Rieder, Robert & Dianne
Ries, Gerald & Amelia Barril
Rink, Patricia
Rooks, J. James & Penny
Ross, Jonathan
Rowlands, John & Mary
Ryan, Thomas & Sheila
Sankovich, Patricia
Schmidt, Dennis & Sharon
Schmit, Susan
Schneider, Chris & Mary
Schomogyi, Mark & Lisa
Selland, Ashley
Semler, Kevin & Sandi
Sharkey, Emmett (Joseph)
Shedd, Darin & Catherine
Silva, Robert
Simpson, Barbara
Skeldon, Daniel
Skillman, Joe & Anna
Skrinar, Thomas & Patricia
Sleavin, Catherine
Smith, David & Lisa
Snarski, Gerald & Marrilyn
Sodeman, Earl & Wendy
Solberg, Gerald & Betty
Spadoni, Margaret
Staeheli, Christopher & Anita
Staeheli, Dominic & Tara
Staeheli, Therese
Stears, George & Mavis
Stephen-Jordan, Bruce & Pamela
Susee, Timothy & Molly
Swanson, Marilyn
Swift, Jackie
Syrovatka, Ray
Taylor, Jay & Katherine
Terkla, Truxton & Lavonne
Thomas, Matthew & Christina
Thompson, Catherine
Titus, Carolyn
Titus, Leon & Marcianne
Tollefson, Rudy & Connie
Tolzin, Lynn
Tomberg, Ralph & Barbara
Trunk, Marlene
Turco, Michael & Cindy
Tuttle, Jeff & Wendy
Tyler, Matthew & Patricia
Vanderleest, Ronald & Yvonne
Velez, Manuel & Ann
Walker, Leah
Walle, Jerald & Elizabeth
Waller, John & Amy
Ward, John & Denise
Ward, Todd & Kim
Weathers, Marganne
Weber, Kathryn
Werner, John & Freda
White, William & Connie
Wolter, Daniel
Wood, Patricia
Wood, Rex & Judy
Woods, Charles & Leone-Woods, Catherine
Wright, Irena
Wynne, Tim & Kristen
Young, Robert & Patricia
Zadow, Mary
Zimmerman, Charles & Kathy
If you have made a donation to the Annual Catholic Appeal and your name does not appear on this list of contributors, rest assured that your donation is being processed. There is a significant lag in reporting from the Archdiocese to parishes. The lag time depends on a number of factors, including whether your pledge was submitted to the parish, online, or sent directly to the Archdiocese. The method of payment (cash, check, credit card) also impacts the processing and reporting lag time. Thank you for your patience.
A Heart of GRATITUDE
We are at 90% of our goal. 361 people have raised $105,425. An additional $11,112 to reach our $116,537 goal established for the parish by the Seattle Archdiocese with pledge fulfillment is hovering at 68%.
The thermometers below indicate where we are year to date in the 2017 Annual Catholic Appeal campaign.

Dollar Goal for the Annual Catholic Appeal 2017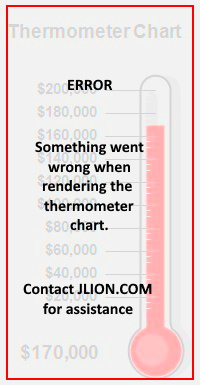 Donor Goal for Annual Catholic Appeal 2017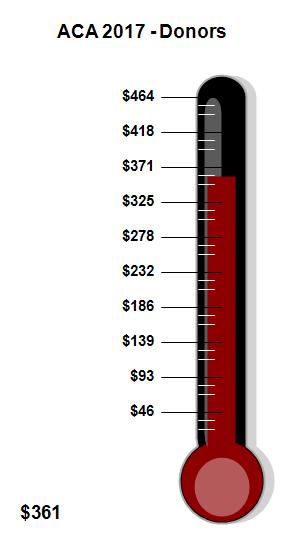 We Need YOU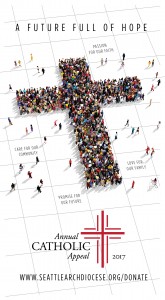 Have we heard from you? If we haven't heard from you, we ask that you join us in support of this very worthwhile campaign. If everyone that supported the Annual Catholic Appeal in 2017, but still has not contributed this year, gave at the same level or greater as they did last year we might be able to earn a rebate to facilitate a much needed renovation of the restrooms in the Church that will improve handicapped accessibility.
Did you know that thanks to your generous support of the 2016 Annual Catholic Appeal we earned a rebate that enabled Saint Patrick Catholic Church to install two new electronic entrances to the church— one by the parking lot entrance near the elevator and the other at the easternmost entrance to the sanctuary. These new doors make our church more accessible to those who want to join us.
If we fall short of our goal, we will need to remit a payment to the Seattle Archdiocese from our parish savings for the balance. Currently our pledge fulfillment rate is 65%. Fulfill your pledge and then get a matching donation from your comany so we can reach and exceed our goal even faster.
Matching Gifts Will INCREASE Our Rebate
Have you checked with your employer about matching your gift? Most companies have matching gift programs and many of those companies match the Annual Catholic Appeal. You can double your gift to the ACA in a few easy steps. Once your gift has been paid in full, apply for the match per your employer's instructions. The Annual Catholic Appeal, Archdiocese of Seattle, is a tax-exempt organization under Section 501(c)(3) of the Internal Revenue Code. Tax ID # 91-0778147.

DONATE Today
Click the button below to make your donation now or learn more about the 2017 Annual Catholic Appeal,then prayerfully discern your gift and make your donation.