Living Your Strengths During Advent
The Season of Advent is an opportunity to explore ways to connect our talents with Scripture. Talents are the 34 strengths, as defined by the book StrengthsFinder 2.0.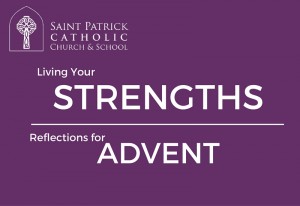 Reflect on your strengths through Mary, The Mother of Jesus, and ponder the questions.
 Living Your Strengths: The First Week of Advent
Behold, I am the handmaid of the Lord. May it be done to me according to your word." Then the angel departed from her.Luke 1: 38

When did  I said "Yes" even when I knew there was risk involved.
 How have my talent strengths helped me to follow through on this "Yes"? What strengths did I use?
How has this "Yes" helped my faith to grow?
Living Your Strengths: The Second Week of Advent
During those days, Mary set out and traveled to the hill country in haste to a town of Judah where she entered the house of Zechariah and greeted Elizabeth. When Elizabeth heard Mary's greeting, the child leaped in her womb and Elizabeth was filled with the Holy Spirit…Luke 1: 39-42
When have I been inspired to do something special for someone knowing it would require me to do it quickly, with expense to myself in time or money (or both) that stretched my comfort zone
What talent strengths did I use during that inspiration?
How did that event help me to grow in faith by quickly responding to the Holy Spirit?
Living Your Strengths: The Third Week of Advent
In those days a decree went out from Caesar that the whole world should be enrolled…And Joseph, too, went up from Galilee from the town of Nazareth to Judea to the city of David that is called Bethlehem…to be enrolled with Mary, his betrothed, who was with child.Luke 2:1-5
When was I was called upon to take action that was very inconvenient, very unexpected, and very important?
What talent strengths did I use to complete this action?
Did one talent strength rise up of my top 5, or did I use all 5 strengths in coordination?
Living Your Strengths: The Fourth Week of Advent
Now there were shepherds in that region living in the fields and keeping watch over their flock. The angel of the lord appeared to them and the glory of the Lord shone around them and they were struck with fear. The angel said to them, "Do not be afraid; for behold, I proclaim to you good news of great joy that will be for all the people. For today in the city of David a savior has been born for you who is Messiah and Lord.Luke 2: 8-11
When was I doing what I was supposed to be doing but something very unexpected happened? So unexpected that it might have frightened me?
What talent strengths did I use to respond to this experience?
How in the moments, hours, days and years since this event happened, did I grow in my faith?
What are Your Strengths?
Would like to know your top 5 talents? The book Strengthsfinder 2.0 is available for purchase at the Parish Center. The cost of the book is $17. Let us know if the cost of the book presents a hardship.  Scholarship funds are available to offset the cost of the book.