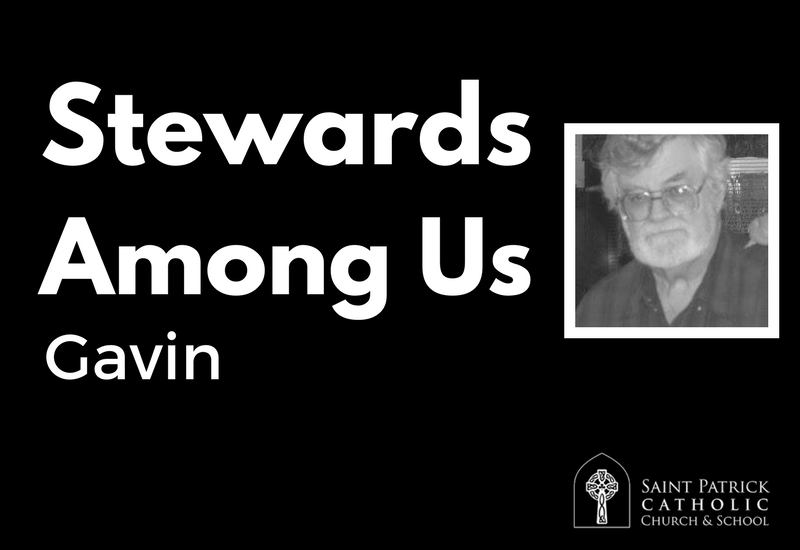 Gavin MacHutchin is a parishioner at Saint Patrick Catholic Church. He is a steward among us.
A Light To Many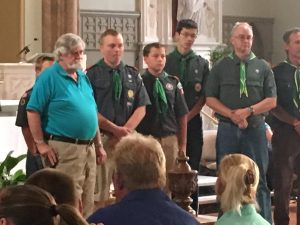 After decades as a leader in the program for Rite of Christian Initiation of Adults (RCIA), Gavin has stepped down. He was recognized at the 8:30 AM Mass on August 27, 2017 for his many years of service.
Gavin is so loved by the parish faith community, where he is a Scoutmaster Emeritus of Troop 299, that the Boys Scouts leaders got word of the pending recognition, then on their own initiative asked current scouts to come to Mass dressed in their Class A uniform.Kevin Lovejoy, Pastoral Coordinator at Saint Patrick Catholic Church & School
However, while the parish faith community celebrated Gavin, what they truly celebrated was how Christ worked mightily through him all these years. Because of his 'yes', the world became a bit brighter and more people came to know the love of God. There is an invitation to all of us in that understanding.
Gavin was one of the first parishioners to embrace Sheila and I when we came back to St Pats. He and Carol are two of the finest people we know and great examples of our Catholic family. Gavin was a great source of Church history when we were RCIA sponsors as well giving everyone insightful examples of our traditions. He is also a great artist and we are proud to have several pieces of his artwork in our home that are a constant reminder of our faith and his incredible gift of artistic talent.Mark and Sheila Jensen, Parishioners
Answering the Call
Gavin and his wife Carole joined the parish in 1985 and he got right to work helping people explore the Catholic faith as they journeyed to baptism and full communion with the Church. He began the program for RCIA with Father Mike Schmitt in the same year he and his wife joined the parish. He noted that he lead RCIA for "10 or 11 years and then took a break and started back up again in the 1990s and never left!" Gavin has been a part of helping many people find their faith.
When I converted to the Catholic Faith several years ago, Gavin was one of the "leads" in the RCIA program at St. Pats, and I will never forget the always meaningful and enlightening "dismissals'" he conducted for our group during the program. We have gone on to become very good friends, and it has been my privilege and honor to work with him in RCIA in the ensuing years. He is truly gifted as an artist, historian, teacher, and friend. Most of all he is a true Christian, while being a lovable curmudgeon! Jim Rooks, Parishioners
Not Just RCIA
Along with the RCIA program Gavin has answered the call of Christ in many ways. He has been active with Boy Scouts, Liturgy Commission.
Gavin has been of vital importance to our Daily Mass and has served tirelessly, whenever he is asked. He serves as a Eucharistic Minister on Mondays and has led the Communion Service on the third Wednesday of each month for a number of years. His presence on the Liturgical Commission gave us information regarding the RCIA program. Also, I have had the privilege of Lectoring with him, on weekends, over the years.Jane McDonough, Parishioner
He has served as a lector and a Eucharist Minister and is a parish docent providing tours of the beautiful church and sharing the rich history of Saint Patrick Catholic Church & School.
I ALWAYS learn something new every time I visit with Gavin! He is such an interesting and spiritual person. Thank you Gavin for sharing your knowledge with so many of us and bringing many, many souls to Christ. We are also richly blessed by your amazing artistic skillsNancy Jaenicke, Parishioner
Getting to Know Gavin
Gavin was born and raised in Nairobi, Kenya. He was educated at Kilimani Primary and the Duke of York Secondary Schools and completed National Service in the Kenya Regiment and served in the British Army before being commissioned as a regular officer in the Rhodesian Army.
He travelled extensively in Euorope and in East, Central and Southern Africa, and in Western Australia; living in Britain, Kenya, Uganda, South Africa and Rhodesia (now Zimbabwe).
He immigrated to the U.S. in 1968 and earned a B.A. at Eastern Washington, a B.Ed at the University of Puget Sound and a M.A. at Boston University. He was an instructor in African History at Boston University, and an Associate Professor of Anthropology at the Massachusetts College of Art.
In November 1987, our pastor, Father Michael Schmitt, was killed in an automobile accident while driving up to the mountains to spend the day doing one of his favorite things, hiking.

Father Schmitt came to us in July 1985. Every week he wrote a letter to us, his parishioners. After he was killed, a parish committee was put together to consolidate the letters into a spiral-bound book. In the book, besides the letters, there are many drawings of Father Schmitt, drawings of him as our pastor, drawings of him skiing, each beautifully illustrated by Gavin. The drawings made the book seem even more real.Georgeann Cukjati, Parishioner
He paints in watercolor and egg tempura and draws in pen and ink, pencil and colored pencil.  His subjects varied from African peoples and animals to portraits and scenery. He has shared his artistic talent with the parish faith community. His work can be seen in many staff offices.
He has had shows in Nairobi, Kenya; Bulawayo and Salisbury (now Harare), Spokane, Washington; Boston, Massachusetts and Art on the Avenue and Proctor Arts Fest in Tacoma, Washington.
Serving God, by Serving Others
We are grateful for Gavin. The faith community thanks him on behalf of the multitude of people  he served throughout his time at the parish and the many that he will continue to touch as he continues his service to God. Gavin is an example to all of us. He demonstrates the importance of evangelizing and inviting others to faith. We ask that the Holy Spirit use his example as a way to touch the hearts of others and to call the faith community into a deeper commitment to serve our Lord and Savior Jesus Christ.
If I had to describe Gavin in one word, I would choose "Generosity". While Gavin is known to many of his friends at Saint Patrick's as a talented artist, devout Catholic, and knowledgable teacher, it is because of the way he has so generously shared his time and talents with us that we all feel moved to thank him. From the day I met Gavin in 2005, he has inspired me to learn more about my Catholic faith while providing me with opportunities along the way to share my enthusiasm and love of God. Thank you for the encouragement my friend! Most of all, thank you Gavin, for helping the boys and I feel included – like family.Patricia Ottow, Parishioner
Tell Us Your Story
Do you have a story to tell about Gavin's impact on your life?  Send us an email and we will add it to this news article and share it with the parish faith community!
I came to the parish in December if 2014. My wife is a Catholic since birth and came to Tacoma with me out of love. When we discussed marriage I told her I would become a Catholic prior to our marriage. Born into a Lutheran family, baptized and confirmed it was not a great leap. I joined the RCIA group at St. Pats in January of 2015. I learned so much about faith in the few months prior to the Easter Vigil. I am a history major from the University of Minnesota and the insight to the Bible and scripture I received from Gavin during our Sunday sessions was better than any course I took in college. He was so knowledgeable about scripture and related it to the times and culture and mores of the times, it truly opened my eyes. It increased my interest and love of scripture. The experience was truly life altering. A few moths ago I spent a few moments with a 5 year old and said you look memorized, she said "I don't know what that word means." That's my experience listening to Gavin…memorized! Amazing teacher, speaker, individual and a trusted friend. About 10 years ago I got an email from a young man that had worked for me at the University of Minnesota. He had read a book that said you should contact the 5 most influential people in you life and thank them. He contacted me some 10 years after he worked for me to ket me know I was one of the most influential people in his life. I was so moved I contacted my 6th grade teacher to tell him the same. That said, Gavin has moved into my top 5 with that 6th grade teacher, my father, my Director at the University of Minnesota, when I worked there and my mentor and partner in business for several years. (My wife is above all but, is on her own list). The entire [RCIA] program, Leah [Walker] and the relationships I built in RCIA were and are forever but Gavin was the one that locked me in and opened my eyes to scripture and the love of God and the church!Bruce Bechtle, Parishioner