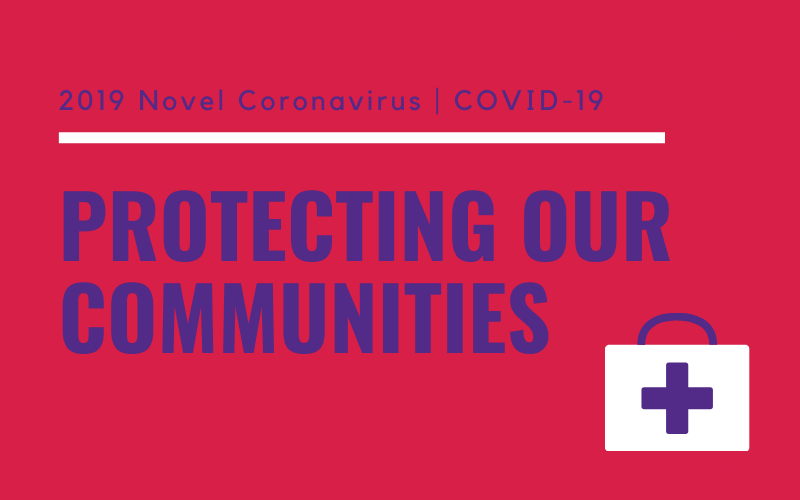 Newsletter from our Pastor during COVID-19
Private Prayer & Confessions
Stay Home, Stay Healthy Order
March 23, 2020
In light of Governor Inslee's Stay Home, Stay Healthy order, all of our church buildings are closed until further notice.
Please stay home and pray for an end to the COVID-19 virus, for all who are suffering from this illness, for their families, and their medical caregivers.
Update March 11, 2020 | Archbishop's Video Message Suspending Public Masses
Please view this video message from Archbishop Etienne suspending all public Masses effective immediately. We recognize that there are many implications to this decision and there will be additional communication forthcoming as the situation unfolds. Please continue to pray for all people suffering from, or otherwise impacted by the spread of COVID-19.  Click here to view the current schedule for quiet prayer in our parishes.
Update March 10, 2020
March 10, 2020 | Letter from Bishop Mueggenborg
In light of the rapidly changing circumstances surrounding the COVID-19 Corona Virus spread, our parishes are taking the following steps to minimize the risk of spreading the virus while trying to continue some of our regular church services. Please bear with us, as the situation is very fluid, and information is rapidly changing. Many of our decisions are also dictated by organizations with authority over our parishes.
In addition to the list of postponed and modified events, we have taken the following precautions to minimize risks for those events that will continue to take place for the time being. Everyone is encouraged to be smart and make the best decision for you and your family. If you do not feel comfortable attending an event that is scheduled, by all means, stay at home, as we understand everyone's situation is different.
Please continue to check parish websites and Facebook pages for the most up to date information. And of course, continue to pray for one another and everyone impacted by this virus.
Precautionary measures we have taken:
Removed all songbooks and worship aids from all churches
Using collection baskets with long handles as opposed to passing by hand
Encouraging social distancing (sitting or standing 3 feet away from others)
Sanitizing the pews and common areas of our churches
Providing hand sanitizer at all entrances to our churches and parish offices.
Current Status of Upcoming Events at Saint Patrick, Holy Cross, and Saint Rita of Cascia Parishes
Catholic Women's Club Meeting | Wednesday, 3/11 | postponed
School Reconciliation Service | Thursday, 3/12 | postponed
St. Patrick Corned Beef & Cabbage Dinner | Sunday, 3/15 | postponed
Stations of Cross | Friday, 3/13 | all parishes as scheduled without worship aid
Soup Suppers | all parishes | Canceled until further notice
REACH Auction | We're going VIRTUAL!
Youth Group proceed as scheduled, for now, and will follow school decisions
Bible Study | St. Patrick on Monday, 3/16 and St. Rita of Cascia on Wednesday 3/11 and 3/18 | Canceled
Anointing of Sick | St. Rita of Cascia Tuesday, 3/17 | postponed
School Masses, proceed as scheduled using social distancing
Weekend Masses, proceed as scheduled using social distancing as much as possible
RCIA events, proceed as scheduled using social distancing
Atrium ~ Catechesis of Good Shepherd canceled until further notice
Stephen Ministry Meetings | postponed
Inclusion Ministry Meetings| postponed
All Council & Commissions Meeting | Wednesday, 3/18 | postponed
Alpha | Tuesday, 3/24 | no decision, pending further development
Dedication of Outdoor Stations of Cross | Sunday, 3/15 at St. Patrick proceeding as scheduled
Parish Reconciliation Service | Wednesday, 3/25 | no decision pending further development
The Mass series | St. Patrick on Thursday, 3/12 and Holy Cross on Friday, 3/13 | postponed
Safe Environment Training | Holy Cross, Thursday, 3/26 | postponed
Altar Society Meeting | Holy Cross Thursday, 3/19 | postponed
Communion & Liberation | St. Patrick | Thursday, 3/12 | canceled
More about COVID-19
Out of an abundance of caution, if you think you may have been exposed, follow these steps to monitor your health.
Symptoms of COVID-19 are:
Fever.
Cough.
Shortness of breath.
Continue to follow these steps and encourage others to do so to protect against COVID-19:
Wash your hands often with soap and water for at least 20 seconds.
Avoid touching your eyes, nose or mouth with unwashed hands.
Avoid close contact with sick people.
Use a tissue or your elbow to cover your mouth and nose when you sneeze or cough.
Throw used tissues in the trash and wash your hands.
Clean and disinfect frequently touched surfaces.
Stay home and away from others when you're sick.
We will continue to work with the Seattle Archdiocese and will communicate with you any additional information or guidance.
More Information
If you have health questions, you can contact your doctor or healthcare provider. You may also contact the Washington State Department of Health at (800) 525-0127 and press #. The call center is open 6 AM – 10 PM, 7 days a week.
For the most up-to-date information on the novel coronavirus, visit www.tpchd.org/coronavirus
Update March 6, 2020
Update March 6, 2020
Dear Parishioners,
In light of the rapidly changing situation regarding the CoronaVirus, we want to keep you informed of how the outbreak is impacting parish activities.
Scheduled Events
To date, the archdiocese does not intend to ask parishes to cancel Masses, but parishes are encouraged to consider postponing non-essential meetings or gatherings.
Enhanced Communication
To facilitate rapid communication regarding potential changes, we encourage every parishioner to:
Update your contact information in the parish office; especially email addresses and home and cell phone numbers. This will enable us to contact you quickly and efficiently. Call your parish office or send us an email with your most current contact info.
If you can't make it to Mass, our weekend homilies are recorded and posted.
Bookmark our website and "Like" our Facebook page to stay up-to-date on communications.
Communion in the Hand
The Archbishop has asked that we continue to receive Communion in this manner. Parishioners are encouraged to form a small throne with their two hands, upon which the priest or Eucharistic Minister will place the host. And we will continue to refrain from receiving the Most Precious Blood until further notice.

Church Cleanliness
We are taking additional measures to ensure the common areas of the church are cleaned and sanitized.
Continue to Pray
Catholics have always joined together in prayer throughout the ages during times of plague and sickness. Let us continue to pray, especially during this Lenten Season.
We beg you, Lord, to help and to defend us. Deliver the oppressed, pity the insignificant, raise the fallen, show yourself to the needy, heal the sick, bring back those of your people who have gone astray, feed the hungry, lift up the weak, take off the prisoners' chains. May every nation come to know that you alone are God, that Jesus Christ is your Child, that we are your people, the sheep that you pasture. Amen.  ~ St. Clement of Rome
Yours In Christ,
Fr. David Mulholland
Update March 4, 2020
Update March 4, 2020
Dear Parish Community,
With an increasing focus on the coronavirus in our local area, we want to assure you that our team continues to monitor the situation. Without causing alarm, we believe it is prudent to take customary health precautions.
Our response to this spreading virus must reflect how we, as disciples of Jesus, love our neighbor and love God. In caring for all members of our community — especially the elderly and the vulnerable — we are carrying out the mission of the Church. We must do our part to help prevent the spread of the virus.
We strongly urge you to read and follow these recommendations from Archbishop Etienne out of an abundance of caution:
1. If you are sick or feel you are getting sick, stay at home and do NOT attend Mass. Missing Mass due to illness is not sinful; it is prudent and shows care for your brothers and sisters.
2. During Mass, we will continue to refrain from holding hands with your neighbor during the Lord's Prayer and to refrain from the exchange of the sign of peace during the communion rite. This is actually an optional part of the Mass, and we will simply proceed with the singing of the Lamb of God.
3. During Communion, the Eucharist will only be offered in the hand, rather than
on the tongue. Additionally, we will continue to refrain from offering the Precious Blood from the chalice at this time.
4. You will notice that we have drained the holy water fonts in the church, until further notice. Please simply bless yourself with the sign of the cross as you enter and exit the church.
5. Please practice respiratory etiquette and good health hygiene with these recommendations from the CDC: https://www.cdc.gov/coronavirus/2019-ncov/about/prevention-treatment.html
Thank you for your attention to these important health precautions. These changes are temporary and should not disrupt the celebration of the Mass. Please let us know if you have any questions.