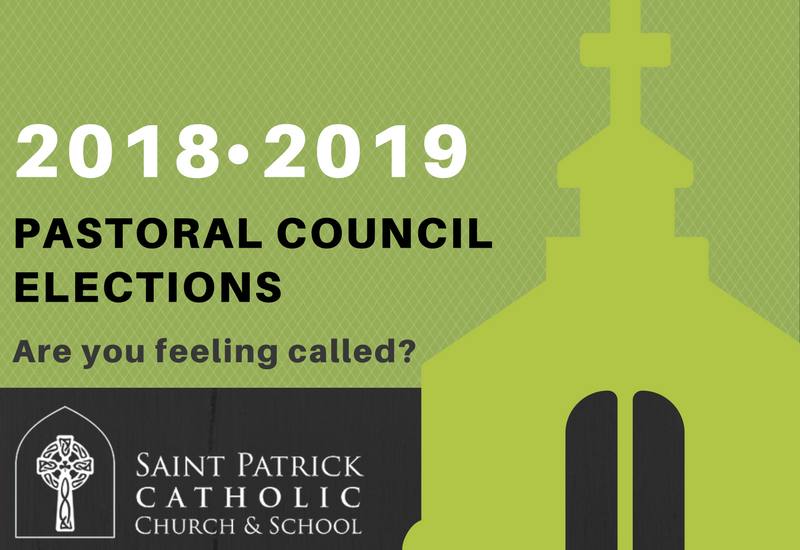 Dear Friends,
Saint Patrick Catholic Church & School's annual Pastoral Council elections will be conducted the weekend of May 19 – 20, 2018. This year, we are seeking candidates to fill three vacancies. If you, or someone you know would be a strong candidate for the Council, we would love to hear from you. Last year, we were blessed to have ten candidates for the four positions that were open. We pray to have that many candidates run for election again this year!
We have a long tradition of relying upon lay leadership to help set the direction and vision for Saint Patrick Catholic Church & School. In recent years, lay leadership in the long-range planning team and Pastoral Council developed our mission, parish priorities and goals.  Today our Pastoral Council, among other things, is guiding us through our partnership with Saint Rita of Cascia Catholic Church, a potential capital campaign for our school, and how we, as a parish respond to the call of Pope Francis to Evangelize the Good News of Jesus Christ.
The overall responsibility for our parish lies with all of us, not just the pastor, parish staff  and deacon. We ask you to join us in this journey by discerning whether you feel called to serve on your Pastoral Council.
Please let us know if you would like to be a candidate by April 30, 2018.  We will need a photo and a one paragraph biography/statement of interest. Council members are available to answer questions about their roles and responsibilities. Call the parish office at 253-383-2783 or email us at parish@saintpats.org and we will contact you immediately.
Blessings,
Pastoral Council Members
George Lane, Chair
Greg Unruh,  Vice-Chair
AnneMarie Jesse
Emily Keller
Nancy Jaenicke
Andrew Kariuki
Kathey Bucholz
Kathy Bethke
Mark Jensen