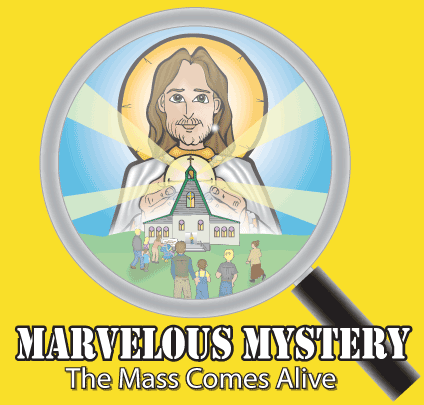 We are getting kids immersed in the greatest mystery on earth as they spend a week learning about the incredible treasure of the Mass. Kids will develop a new appreciation for the Catholic Mass and will deepen their love for Jesus in the Eucharist through faith teachings, catchy music, fun games, crafts, and more!
Who, What, Where & When?
Saint Patrick Catholic Church & School is once again partnering with St. Charles Borromeo Church & School and Holy Cross Catholic Church for Vacation Bible Camp.
The VBC program will be housed at St. Charles Borromeo Catholic Church & School, 9 A.M. – 12  P.M., June 25-29, 2018, for children in Kindergarten through grade 5.
Click here to register!
Supplies Needed
We are looking for the following supplies:
Individually Wrapped Candy like Tootsie Rolls, Hi Chews or Starbursts
Ice Cream Sundae toppings (various)
Balloons
Gluten-free pretzels
Spoons (300)
Mustard, Bean and Marigold Seeds
Paper Cups (500)
Sandwich-Size Plastic Bags (200)
Quart-Size Plastic Bags (190)
CheezIts, Mini Bags of Chips, Pirates Booty, Fruit Roll Ups, Fruit Snacks or Gummi Bears
Dinner-Size Paper Plates (300)
Items should be labeled VBS and can be dropped off at the Parish Office, 8:00 A.M. to 3:00 P.M., Monday – Friday.
Volunteers Needed
Teen and adult leaders are needed for Vacation Bible Camp. We are seekings actors, musicians, small group leaders, teachers, readers, crafters, lifters and more! Chances are, you are the missing piece we need. Get your application in today!
Qualifications
are in the 6th grade or older?
love the Lord?
love children?
like to have fun?
have some experience working with children?
Responsibilities
Your responsibilities as a volunteer are simple, yet important.
Help with set up, decorating, rehearsals June 18-21, 

 

10:00 A.M. to 3:00 P.M.

Attend a leader-training meeting
Attend VBC each day
Participate in fun activities
Arrive about 15 minutes early to greet campers each day
Download the Volunteer Application, fill it out and drop it in the collection basket, mail it or scan it and email it to us ASAP.
Training
Adult volunteers need to have completed the required Archdiocesan Safe Environment class before the start of the program. All youth volunteers in grades 6 – 16 are requird to participate in one of the following training session. The trainings will be offered on June 12, 7:00 P.M. -8:30 P.M. in the Library at St. Charles Borromeo School or June 21, 1:00 P.M. – 2:30 P.M. in Feist Hall. Adult volunteers are also encouraged to attend to get supplies and materials.
I have questions about VBC
Allison Verhofstadt, Vacation Bible Camp Director
253-383-2783