Playing sports has become very important today, since it can encourage young people to develop important values such as loyalty, perseverance, friendship, sharing and solidarity. Sports, in fact, can make an effective contribution to peaceful understanding between peoples and to establishing the new civilization of love.Saint Pope John Paul II
Gospel Values Incorporated into the Sport
CYO Athletics is sports done a different way— as one community. Individuals and teams strive for greatness in accordance with Gospel values. To develop the whole person, we teach success is not measured solely by the scoreboard, but by the effort, team play, and fun of the experience.
Join the Team
Saint Patrick Catholic Church & School offers three of the CYO Athletics programs for grade school youth— Cross Country (K-8), Basketball (4-8), Volleyball (4-8).
Other Opportunities
If teams are formed in other CYO sports— Softball, Baseball or Soccer, travel to Seattle would be required to compete. Pierce County CYO does not currently offer these sports, but they are offered in Snohomish-King County. Track is offered at All Saints Catholic School and St. Vincent De Paul School. We can participate in their programs and/or develop our own teams.  Please contact our athletic director for more information.
The Play by Play & More
Get the play by play, practice schedules, game times, registration announcements and more by clicking on the sport specific folders below.
Cross Country
Basketball
CYO Basketball
CYO Basketball is open to students in grades 4 – 8.
Registration
http://www.teamsideline.com/sites/seattlecyo/current-programs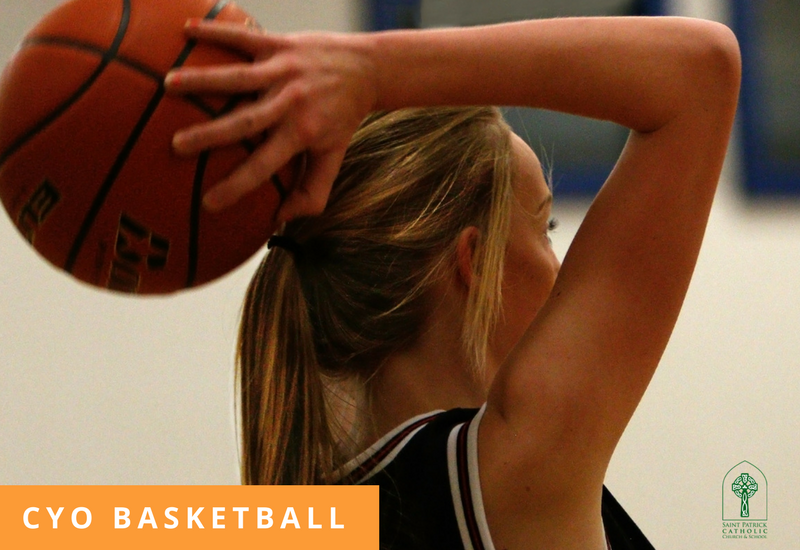 Volleyball
Track & Field, Softball & Baseball Opportunities
Track & Field, Softball and Baseball
If you and your family have interest in CYO sports for Track & Field, Softball and Baseball, please contact the athletic director at cyoathletics@saintpats.org.  These sports are not offered in Pierce County. We would participate in south King County with teams like St. George, St. Vincent de Paul, etc.
About Our Local CYO Leadership
CYO Athletic Director
David Goodsell
David Goodsell assumed the role of CYO Athletic Director at Saint Patrick Catholic School in the 2019 – 2020 school year. He is thoughtful and reflective and has great vision and ideas. David Goodsell is a member of our Saint Patrick Catholic Church community fand an involved parent at St. Patrick Catholic School. He has coached football at Bellarmine Preparatory School and at the youth sport levels. As a former college athlete, David understands the positive influence of athletics and its unique role in teaching life-long skills. As a product of Frosty Westering's coaching, David adheres to the same coaching and training techniques with his own players and coaches.
CYO Cross Country Coach
Phil Phletcher
Phil Phletcher serve as the head coach of CYO Cross Country. Phil has volunteered as a coach for several years and is always excited about the opportunity to continue working with our vibrant community of runners.
David Goodsell, CYO Athletics Director
253-272-2297