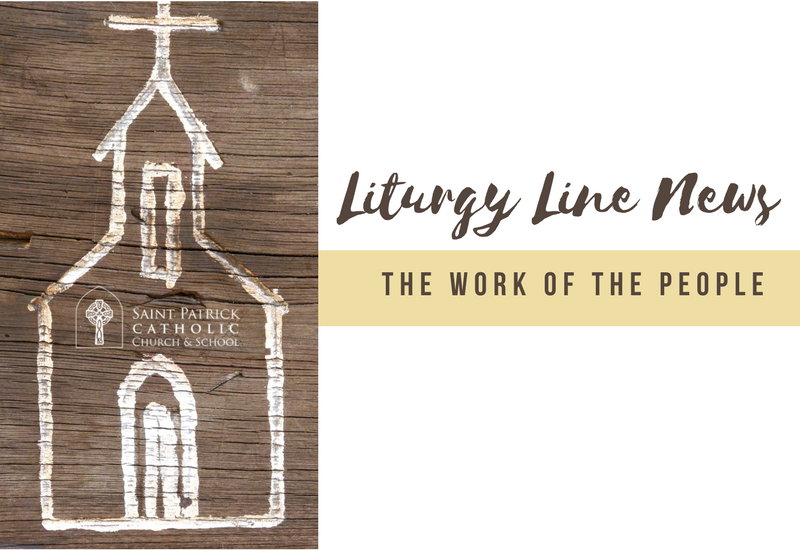 Dear Friends,
You're invited to a very special celebration! Each week, we come together in this beautiful church to attend this greatest of banquets, our Catholic Mass. We are invited to do so by the greatest and most gracious of hosts, our Lord Jesus Christ.
He doesn't invite us to simply arrive and sit passively in our pews waiting for the priest to lead us through our rituals. I know that I've been known to follow along, say all the prayers in all the right places, sing along with our wonderful musicians, and yet not be at all engaged in the liturgy. I am very comfortable in the ritual that is such a beautiful part of our tradition and sometimes I get complacent allowing my mind to drift away from God and the Mass. But that's not the intention of the liturgy. The word liturgy itself calls us to action, to full participation, to responsibility. The word liturgy defined actually means "the work of the people." Our God wants us to actively participate, to be fully engaged in our prayers and responses, to be a part of this great mystery of our Mass.
Children
What does that mean? For some of our younger parishioners, it might mean being an altar server. Assisting our priests as they perform their duties and responsibilities or passing out bulletins at the end of our service so that we have the information we need to navigate our many parish activities.
Extraordinary Minister of Holy Communion
For some, it's the great honor of being an Extraordinary Minister of Holy Communion (Eucharistic
Minister) literally, in the true sense of the word, giving someone Jesus in body and blood. That can feel overwhelming. We can ask ourselves if we are worthy. But it's not about being worthy. It's about answering the call. It's about service—service to God and our brothers and sisters in faith. Literally giving someone Jesus.
Lectors
Others might participate as a lector. Not a reader, there's a difference. Our lectors don't read us scripture, they proclaim the Word of God. They have strong voices that help us experience God's holy word, not just hear it so that we can turn that word inward and find direction and comfort from it. Our leaders of Children's Liturgy of the Word provide our young people the opportunity to do that at their own level.
Music
Many offer the gift of their musical talent, helping us pray through song, at one moment creating a feeling of joy, and the next moving us to solemn prayer.
Greeters
Our greeters are the first faces that people see as they walk through the doors. They are friendly, welcoming individuals who let each person who comes to our celebrations know that they are valued and important.
Ushers
Our ushers show up a little early each week to be sure that we are prepared, to help us find a seat, to assist with collections and the offertory, and to move our celebrations along in an orderly fashion so that those of us in the pews may focus on our prayer.
Attend Mass
For some of us, our job at liturgy is simply to sit in the pews or on the livestream and pray— to pray for our liturgical ministers, to pray for our priests and our deacons. To pray for our community and our world. This is no minor role.
Serve
If liturgy is the work of the people, then that means we are the workers. We are by definition invited to active participation in the liturgy of the Word and the Eucharist.
The invitation is to continue to come to Mass, to be engaged in the liturgy and to consider how else we might participate in the work of the people. If you feel called to any of this work, please catch me after Mass or call me in the parish office. I'd love to help you discern your ministry to this beautiful community of faith. If you are feeling that call to a particular ministry, but think that you have some physical barrier that would prevent you from doing so, talk to me before deciding that it isn't possible. Together, we might just be able to find a way for you to serve.
Yours in Christ,
Laura Dougherty
Pastoral Assistant for Liturgy, Funerals, Pastoral Care