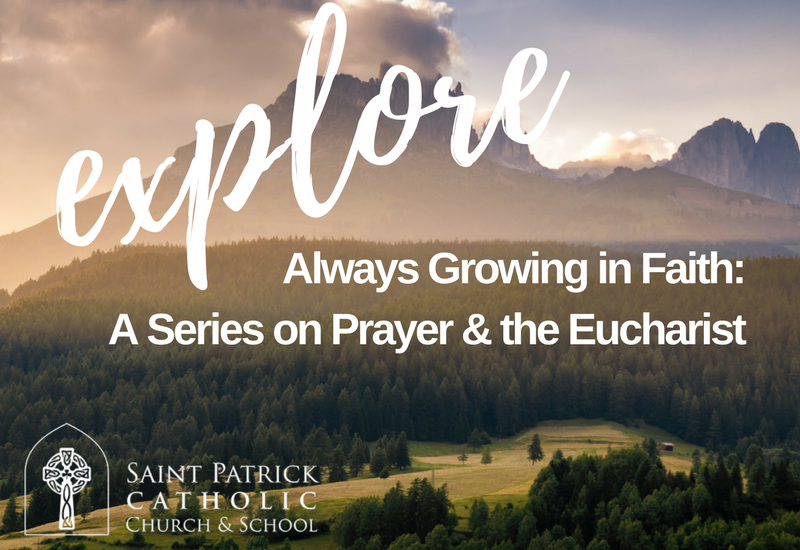 Deepen your knowledge of the Catholic faith. You are invited to share in a series of weekly faith formation articles during the season of Easter. The goal of the series is to provide clarity to what the Church teaches, and to refresh and build a deeper appreciation of the Catholic faith.
Always Growing in the Faith
is a faith formation series focused on prayer and the Eucharist.
Always Growing in the Faith: A Series on Prayer & the Eucharist
1. Prayer: A Personal Response to God's Presence (4/22/17)
2. Praying With Scripture (4/28/17)
3. The Eucharist As the Real Presence of Jesus (5/5/17)
4. How Jesus is Present in the Eucharist (5/12/17)
5. Eucharist As A Participation In The Sacrifice of Calvary (5/19/17)
6. The Eucharist As The Heart Of The Church (5/26/17)
Formed in the Faith
Through these articles, the Faith Formation Commission, wants to communicate, as desired, the Catholic Church's tradition and teaching to parishioners, through affective and effective ways, for the growth of each parishioner's personal faith. The Commission has decided that one of those ways is to offer weekly articles, through established parish communication channels— Church Bulletin, The Cornerstone eNewletter, YouTube and myParish app, that will cover a variety of faith related topics. The Commission is hoping for feedback from parishioners regarding the quality and content of the articles, as well as suggestions future topics.  The feedback will be collected in the form of an online survey.
Meet Mike Moyer
The newly formed Faith Formation Commission, which was established in October 2016, has assigned one of its newest members, Mike Moyer, to be responsible for gathering and authoring articles.
Mike, father of four grown children, and grandfather of seven, is a product of Jesuit education and formation. He has a Licentiate Degree in Thomistic Philosophy, an MA in Anthropology, and, in recent years, has studied Theology on a graduate level. Mike is retired from a career that encompassed 14 years working with Native American groups, and then, also 20 years working in the senior management of three vacation resort companies.
During Mike's lifetime in the Northwest, he has been an active member of a number of Catholic parishes. In that time his participation has included service as lector, retreat organizer, parish council member and Archdiocesan Deaconate Board member. His most recent parish, before calling Saint Patrick Catholic Church home, was St. Edward Catholic Church in Shelton, WA. Besides his service on the Faith Formation Commission of Saint Patrick Catholic Church, Mike will be serving as a extraordinary minsiter of Holy Communion to the sick and homebound and as a member of the Bellarmine Mission and Formation Committee.