Thank you for your interest in employment opportunities at Saint Patrick Catholic Church & School.
Facilities Coordinator at Saint Rita of Cascia Catholic Church
Saint Rita of Cascia Catholic Church
Part Time Facilities Coordinator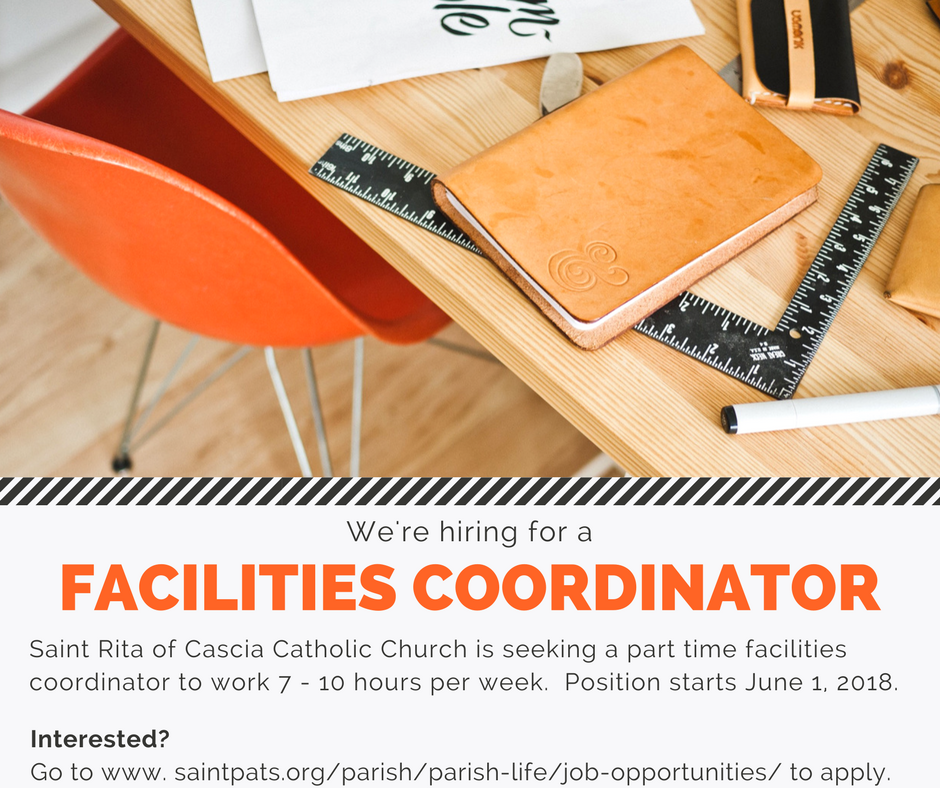 Purpose
Oversees and/or provides services for the building and grounds, and facilitates all communications and requests between Saint Rita and its partner parish, Saint Patrick, and all entities that will continue to be supported at Saint Rita. This is a 7-10 hours per week position begins June 1, 2018. View job description for details.
Application Process
Complete job application under the Human Resources tab on the Seattle Archdiocese website.  After completing the application online, print and send by April 8, 2018.
Mailing Address
Saint Rita of Cascia Catholic Church
1403 South Ainsworth Avenue
Tacoma, WA 98405
Email
Click here to send via e-mail.
Substitute Teacher at Saint Patrick Catholic School
Saint Patrick Catholic School is looking for caring individuals to join our substitute teacher pool. A teaching background is not necessary. As long as you have a college degree we can help you obtain an emergency substitute certificate through the State of Washington.
If you are interested in helping us in our mission of nurturing an abiding Catholic faith, while pursuing academic excellence, please contact Barbara Bolanos via email or call (253) 272-2297 ext. 4133.